A DREAM COMING TRUE ..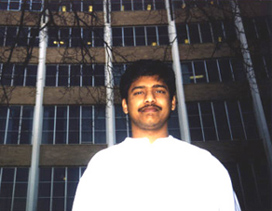 Opposite the Medical Faculty
I am very fortunate to study medicine at last.It's really like a dream coming true. After entering medicine at Sri Jeyawardanapura University in Srilanka, I discontinued my studies just after a month in medicine to migrate to Australia in 1996.

In Australia, I was not offered medicine at the first instance. So, I enrolled in Bachelor of Science degree at University of Melbourne and finished my first year obtaining results which were good enough thanks to god to be selected to Medicine at both University of Melbourne and University of Tasmania. I opted to study at Melbourne University.I am now in 1st year enjoying every minute of my studies.

I sincerely believe, it's the God who had given me the second chance. I never thought that I would do medicine again. It was so frustating to re-start from scratches especially when it was just moments before u have finished that task after so much hard work . It's easy to understand how hard is to get in to a university in Srilanka, if u have had the bitter experience of studying for the A/L there.

It's a real race for 25,000 odd competitors fighting for just 700 odd places.It was made even worse by racially discriminating university selection policy and arbitary arrests of students by security forces.

But, When I look back on the plight of my brothers and sisters in Srilanka I have no words to express my anquish and sorrow. There are guys who are far more talented and hard working than me but denied their opportunity to follow their desired courses including medicine by the so called racially discriminative "district quata" selection, and the devastating consequences of the merciless and direction less war waged by the Srilankan government and the Tamil tigers. I feel very sad and sorry for my brothers. GOD! please act quickly and bring back smiles on their faces.




My University Motto: Postera crescam laude
( I shall grow in the esteem of future generations )
The University of Melbourne is one of Asia's leading research and highrer education institutions.Since, it's foundation in 1853, the university has educated national opinion-leaders in government,industry and academia and has nurtured research efforts essential to the country's economic technological, social and cultural development.
There is now a student population of over 32,000 including approximately 8500 full or part-time post graduates. Students are supported by 2000 professors and teaching professionals with 2000 full time international students from over 70 countries. The University's commitment to excellence ensures that only high achieving students are accepted into courses.
The University of Melbourne continued to be first choice for the state's top school leavers, with all 10 winners of the Premier's award for the top 1996 VCE (Yr 12) students and 103of the 131 Victorian winners of the Australian Students' prize choosing to study at melbourne University. Over the last five years,University of Melbourne students have won every Rhodes Scholarship awarded in victoria. For 1997, the University of Melbourne received more Australian Postgraduate Awards from the federal government than any other university.The APA's are awarded nationally to students with exceptional research potential.The University has also received the largest share of national research funding.
The University of Melbourne was rated one of Asia's top three universities based on academic standing, in a survey of chief executive officers at universities in the Asian regionin 1997. Melbourne university was ranked alongside the University of Tokyo and National University of Singapore. The survey ,by Hong kong based Asia week covered the region's top 50 centers of higher learning. It reported on both academic reputation and number of specific variables using data drawn from across the sector. Also, affirming it's leading status in Asia the University's Melbourne business school was ranked Top Business School in the Asia-Pacific region for the third successive year - by the region's most prominent business magazine , Asia Inc.
Enhancing Research Performance Australia's National bench mark of research performance, the Research Quantum Composite Index saw the University of Melbourne again receive the largest share of Federal Government research infrastructure support worth $40 million. Largest share of grants from Australian Research Council(ARC) also went to our University. National Health and Medical Research Council (NHMRC) funding for our University research totalled more than $14.8 million- up23 percent, and again the largest share Nationally.

MY MEDICAL FACULTY
The University of Melbourne Medical School was the first medical school established in Australia. It's now one of the leading medical schools in the world. It has a large faculty with an international reputation for leadership in teaching and research. Twenty departments and five clinical schools,one of them being the prestigious Royal Melbourne Hospital are attached to the medical school. It attracts more external research funding than any other medical school in Australia. The school is also affiliated with research institutions such as the internationally renowned Howard Florey Institute,Walter and Eliza Hall Institute and Ludwig Institute for Cancer research.
FACULTY OF MEDICINE HOME PAGE
OTHER USEFUL MEDICAL LINKS