MY A TO Z...

A-Amma & Atal Behari Vajpayee
B-Brazil Football Team
C-Cricket & Carnatic music
D-Driving
E-Eelam
F-Frankness & Faithfullness
G-God& Gandhi
H-Hindu College & THE HINDU Daily

J-Jesuis Christ & Cricketer Jadeja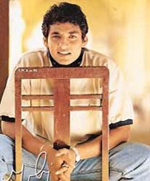 Ajay Jadeja is an asset to Indian Cricket team
K-Kids..Kids..Kids
L-Love
M-Medicine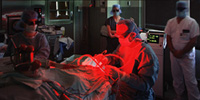 & Manisha koirala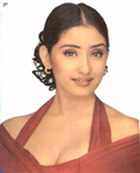 N-Nature
O-Omar Muktar
P-Poems
Q-Quiz
R-Rahman's music & Actor Rajanikanth
S-Sachin Tendulkar& Actor Sharukhan
T-Tamil & Theresa
U-Unnikrishnan's songs
V-Vaali's poems in literature
W-Wellawatte in Colombo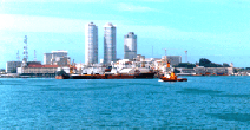 X-X ray viewing
Y-Yanni & his lovely symphoney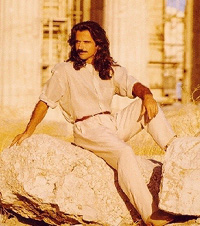 Z-Zakeer Hussain's Tabela music
---

Atal Behari Vajpayee
Sole Hope: Succeed or Succumb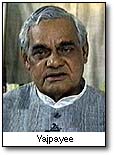 Atal Behari Vajpayee, Prime minister of India and fondly called as 'Atalgi' he is one of India's tallest statesmen.He is one of the best orators India has ever produced. Genial,easy going Vajpayee is the most respected leader in India cutting across the party line. He has friends on both sides of the floor.He is the one who took the once politically untouchable BJP to power with his unchallenged credibilty as a honest political leader and the acceptance of his leadership by even the ideologically adverse political forces. He was the solvent for the antipathy that other parties had developed towards the ruling baratiya Janata Party(BJP)'s brand of confrontational policies.

The phonomenal growth of BJP from a party with just one member in parliament in 1984 to a ruling party with a largest number of MP's in just 13 years was made possible mostly by this political heavyweight and of course the controversial Hinduvita policy of BJP to which Vajpayee was not fully supportive. Although, his days as India's prime minister are numbered, he is by far the most suited person to the Prime Ministeral job India has ever produced. He would have reached the top position of the sub-continent long before,had he been in some other party other than the fundamental ideology oriented BJP. Nevertheless,Vajpayee has succeeded at last after a long wait.

Opinion polls show that Vajpayee's popularity exceeds the party's. It's only in Vajpayee's case it was made true that it's not the party that makes a prime minister. It's the people who do so. It's now in his hands to transform the ideolgyl- ridden BJP in to a idealistic political force acceptable to the mood of 21st century India. If he didn't succeed he and the BJP will be cast in the political wilderness forever. I really love to see my Vajpayee succeed.not succumb.
---
Brazilian Soccer Team - Conqurers' Collapse at the Crowning
After a successful run up to the final, Brazilians suddenly lost the magic touch they had in their golden legs which made them the official world champions for four times in the short history of world cup football. What a defeat it was! I couldn't believe myself.

| | |
| --- | --- |
| Ronaldo in action | Brazilians in joy |
Even the GOLDEN BOY OF BRAZIL FOOTBALL, the energetic RONALDO couldn't save the Brazilians that day.

The Brazilians lacked in team work, cohesiveness in defending the intruders on that fateful day who made full use of those opportunities. Although they lost the finals, my adulation and admiration are still with these conqurers who monopolised the foot ball world for so long.


Ronaldo in dejection

---

| | |
| --- | --- |
| | Carnatic Music is one of the ancient and exuberant musical heritages nurtured and navigated by many thousands of musical masteros over many hundred years. |
I love Carnatic Music.It's the only music which gives you imotional interest and immeasurable inner- satisfaction.Hear it for yourself to immerse in to that new world to experience one of the world's greatest music.
---
Mahatma Gandhi


This century's greatest leader.This half-naked leader fought and won a different battle with the mighty Englishmen using AHIMSA' -Non violence as his sole weapon.Now remembered even in India only on his birthday-October 2nd.
---
New Avatar Of Indian Cricket Team
| | |
| --- | --- |
| | Indian team is now a jubliant and a rejuvenated side after beckoning it's 4th title in the space of just six months. It's really unimaginable to millions of Indian cricket followers considering the pathetic performance of the Indians just an year ago. After a disastarous 1997, reeling Indians re-united under Azharudeen to re- emerge as a strong, cohesive eleven man army to beat the world champions of both forms of cricket in the space of just three months. it's really a rage to riches story. |

Indian team after winning the Akai-Singer cup at Colombo
As an ardent supporter of Indian team from my childhood, I was thrilled on the recent triumphs of my cricketing heroes.It's simply amazing. Everything clicked for them. Now they have six all rounders in their team including the lean in stature but deadly in his deliveries , Agith Agarkar,the new wonder boy of Indian cricket. Sachin Tendulkar is brutless nowa days brandishing his bat and terrorising the bowlers.

There is now a complete change in the team's approach to the game .They are showing tremendous amount of self-confident which was absent in them earlier. They cling on and fight back till the last ball.It was evident in the Hero cup final against Pakistan at Dhaka in December 1997 when they successfully chased a mammoth total of 308 and again in Singer-Akai cup final at Colombo in July when defending their score of 307 against the best chasers in the world, Srilankans.

But there is still a long way to go.India's fielding is not up to the standards when compared to other teams like South Africa and Australia.India's long batting line-up is their stength.But,still they depend on Sachin Tendulkar to provide a solid platform for the middle order to blast the opponets. It's a draw back.It need to be rectified. The belief that 'whenever Sachin does well India wins' is not that fully untrue.Bowling line up is also not that strong compared to devastating Donald- led South African bowling.

The return of injured Srinath should hopefully strenghten the Indian bowling attack. Harbajan Singh,17 year old off- spinner is showing good signs of becoming a permanent member of Indian team with the blessings and support of his captain.He still needs to be exposed to different tracks before coming to a conclusion about his position in the team. So,stil the fourth bowler's position is open . But, one thing is certain.The present Indian team is a side to be reckoned with.They are now a strong contenders for the prestigious World cup next year, which was a distant dream an year ago. All My wishes and prayers are with my Indian team to win the world cup. so are the millions of Indian cricket fans!.
---

Lion of Desert: Omar Muktar
Omar Muktar is a 80 year old teacher- turned guerilla who led an unsuccessful freedom struggle in 1940's against the Italy's dictator Musolini's terror regime in Libya. He was a legendary example for the freedom fighters of many countries. He showed the world that age dosen't matter at all to be a active participant in the freedom struggle.

Although,he followed violence as the means to achieve freedom contrasting to his contemparary Mahatma Gandhi's road to freedom , 'Ahimsa'- the non violence both were similar in their ultimate goal- freedom to their people. I think Omar Muktar's history is more colourful and complete than many of the famous guerilla fighters of yester years for the simple reason of his age. I thought writing a few words about him is a duty and will be a honour to this great old guerilla leader.

A big Salute to u great old man!! Watch the film 'Lion of Desert'to see the heroics of this great guerilla fighter! For Melbourne University students: Call no ---------- ERC video library.
---
Prince of Indian Music
A.R.Rahman
The most sought after music director in India's modern age is supposed to be the baby-faced but brilliant A.R Rahman , the music sensation from Tamil nadu. So far he had composed music to only about 40 odd films in the last 8 years in the busy Indian cinema world.But,he had made each of his film song a hit. that's an amazing and astonishing record in the Indian cine world. He got in to music stardom with his famous 'chinna chinna asai"song in his first film 'Roja'. Audience were spellbound to that fresh and different musical adventure and there is no turn back for him from there.
He exudes his songs with a refined cinematic sensibility and with a touch of Indian cultural heritage.He has revolutionised the Indian cinema music with his computer aided music. Suddenly the whole Indian music atmosphere changed forever. Rahman composed music to many superhit films such as'Bombay', 'Rangeela', 'kadalan' to name only a few.

| | |
| --- | --- |
| | His latest project 'Vandemadaram' was a musical mega hit. 'Vandemadaram' was a tribute to India's hard earned Independence.It sold millions of copies and broke many records in album sales. He was chosen as the best music director for the fourth consequetive year by balloting participated by more than four lakhs of music fans all over India. |
He is personally a very soft mannered and very religious Muslim. His simplicity is very much a unique thing in his field where affluence is the trade mark of every one.He always owe his success to god's greateness.He always repeat these words in every interview he gives or every function he attends.He really means it. This new saviour of Indian music is about to achieve many more heights in the coming years.

His total commitment to his work ,his unparallel faith in god and the urge to try out different things all will make him to be more creative and continue to be an unchallenged leader in the Indian cinema music.But, there are increasing criticisms about the delay in time to compose music by Rahman and his lack of enthusiasm in re-recordings of the films which is not a good sign in the competitive cine world.

To be remain on the top of the ladder not only one need to continue work hard but,also he needs to concentrate on each aspect of the field he is assosiated with and be aware of the criticsms and the present trends.Then only one can adapt himself to the changing scenario and successflly face the challenges and be on top forever. Hope A.R.Rahman knows it too.

A.R.Rahman page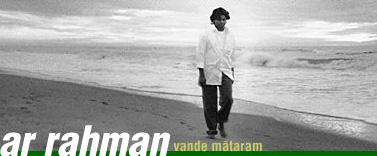 ---
Mother Teresa -A Life of Selfless Caring
A Tribute to Mother Teresa by Subash Srikantha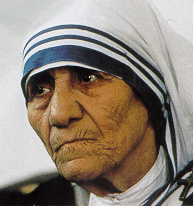 Mother Teresa was arguably the greatest christian of her age.It would not be much of an exaggeration to say that in the intrnational popular reckoning, this small, frail, bent sari-clad Indian woman of Albanian descent was greater than all the popes, pre-emminent leaders of other churches and denominations and christian apologists put together. In the fulness of her life and work she blazed a trail as a great humanitarian.
She was a genius of practicality.She never turned down anyone who was poor and never refused child, Hindu,Muslim,Christian or whatever. Mother Teresa will be remembered for many things, but the most enduring memory of her will be that of a person who translated ideas in to action quickly.Government bureaucracy and red tape, the hard ship of the street, her own declining health didn't prevent her from getting on with her job: that of serving the poorest of the poor.
This trait of mother Teresa's manifested it self from the day she took the decision to give up the life of a nun and teacher at St.Mary's school in Calcutta and step in to streets. She recalled her dicision as being "an order by the god.He wanted me to be poor and love him in the distressing disguise of the poorest of the poor". Born Agnes Gonxha Bojaxhiuon august 26, 1910 Mother Teresa formed the congregation of the Missionaries of Charity with about 30 sisters in 1950. Mother Teresa's make-do style very soon became part of the work culture of the missionaries of charity, and it explains the swiftness with which they are able to estabish their missions in any part of the world they are required to go to.
Take Nirmal Hriday, the home for the Dying destitutes in Calcutta.When Mother Teresa found hospitals refusing to take in destitutes who were left to die on the streets , she decided to start a home for them, she rented a house initially.When it became inadequate,she went to the chief medical officer of the Calcutta.Recognising the public value of her work, she was offered two large community halls.It was forty years ago.There are lot of such centres now in several parts of the country. Mother Teresa and the sisters became a common sight in Calcutta,working in slums,on the streets, treating the leprosy afflicted, helping destitutes offf the streets ,caring for those who were turned away from the hospital.
She and her band of sisters would fearlessly enter riot and war zones.A senior Indian diplomat who accompanied Mother Teresa when she visited Lebanon recalledhow the guns fell silent "along the line of control" each time Mother Teresa was sighted there.The first honour received in recognition of her work was " Padma Shri".Since then accolades have been showered on her.They include Nobel Peace Prize and India's highest civilian honour "Bharata Ratna".All of these Mother Teresa accepted with humility, not hesistating, in the name of the poor to convert the prizes in to money that could be used for her work.
Mother Teresa has not been without her critics.Hindu fundamentalists made her the target of a slanderous and communal campaign. They accused her of conducting 'secret baptisms'of the dying and favouring Christians among the poor in rendering succour both these charges ,as those who have worked with her have attested , are patently false and have made NO IMPACT on the public perception of her work. Mother Teresa vehemently opposed abortion and contraception.She was also against remarriage and divorce.She used to refer as 'non-political'person. but as a public figure,she was by no means so. In India, she was a supporter of minority rights and moved to progressive plitical positions on secularism and Dalit rights. She was one of the signatories who called for communal peace afte destruction of Babri Masjid mosque in India by Hindu lunatics.
Mother Teresa was a trail-blazer who put Christian charity in to action as no one else has done in the modern age. It's the persona that the world will remember-MOTHER TERESA OF THE POOR.
MOTHER TERESA PAGE

---
SINGER UNNIKRISHNAN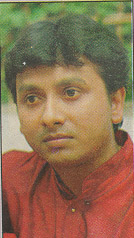 My Favourite Singer.'The hope of the Carnatic music' in 21st century.Only his musical programs attract largest number of female audience.Humble and simple in appearence.



---
POET VAALI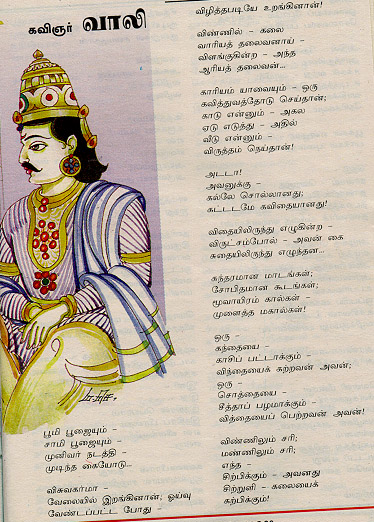 Tamil Poet VAALI is well known among tamil cinema audience. He has been writing lyrics to Tamil films for the last 30 years without a break. Although at times writes vulgarly, he has shown on many times his impeccable literary knowledge in many of his famous ever-lasting cinema songs.His recent poetic work of translating the world famous' Mahabaratam' and 'Ramayanam'
in a flowery Tamil poetic language has earned him many accolades.Here is a sample of his fascinating poetic interpretation of 'Mahabaratam.'

---
' THABELA KING ' ZAHEER HUSSAIN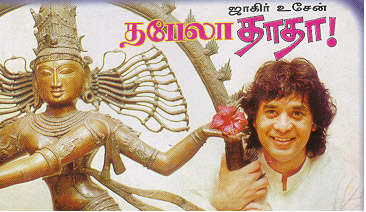 People who have watched the super hit film 'Indian' can't forget the verse 'Zaheer Hussain thabela eval thanaa' in the song 'telephone mani pol'. Thabela music and Zaheer Hussain are synchronimous as white house to Washington.This India-born America settled Tabela king has the ability to attract even the music -naives to listen to him.
He has composed music to many films including a film of 'godfather' fame director francis apocalyps. He has the honour of played his thabela with almost all the top music artists in the world including the pop king Michael Jackson. I love his Thabela music,which starts like a drizzil...then flows like a stream before flooding like a wild riverl to produce huge waves and finally slow down to come to a rest. Grea..t music!