COLOMBO HINDU COLLEGE

College Administrative Building
Now, the leading Tamil boys School in Colombo is undoubtedly Colombo Hindu College.
With a student population of over 4000 and staff members numbering over 125, Colombo
Hindu College is one of the popular National Schools in Srilanka.
The mercurious rise of my College from a small educational institution in 1953 to one of
the Country's top educational establishment is really a great achievement of all those
who worked tirelessly for it's advancement.Hindu College has eight multi-storey
buildings , a large play ground , a science laboratory, resourceful library,computer lab
and a beautiful Vinayakar temple.
For the last nine years our school has produced very good results in both G.C.E (A/L)
and G.C.E (O/L) examinations.Many times Our boys have become one of the top ten
students in the whole country in A/L examinations.
In Sports, we have been the national champions in Football for a few times.We have
a very strong Football following in our school. Although, the training facilities are
minimal, our boys are performing extra -ordinary well bringing honour to our
Great school.
In Literary field , our college continues to be the leader among other Tamil schools in
Colombo bagging many first places in drama competitions, speech contests and musical
programs.Our college annual 'Muthamil Vizha' is continues to attract the largest audience
in Colombo school programs for many years.

| | |
| --- | --- |
| Our College Temple | Our Pavillion |
I was very much previledged to study at Colombo Hindu. It's the place which gave me
enormous opportunities to enhance my literary skills and leadership qualities along with
acadmic studies. I Captained my College Debating team in 1993/94 and became
champions in two of the three Colombo district debating competitions. I had the honour
of
being the Deputy Head prefect for the academic year 1993/94.
I really miss those unforgettable and ever-joyful days at Colombo Hindu College which
won't come back again even if you are ready to pay in millions ..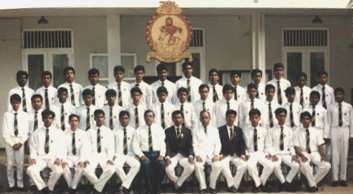 As Deputy Head Prefect with
Junior Prefects (I am seated fourth from right)