Both my parents are Lawyers. They are now enjoying their 23 rd year of happy married life. Both of them have put 24 years of legal practice. My father,Srikantha is still in Srilanka. He was a former member of parliament representing Jaffna district. He is a very good orator and a writer. He is the one who groomed my literary and debating skills along with my mother. He is very fond of us and really wants me to do his profession along with medicine. Hope I will fulfill his wish although it might take years..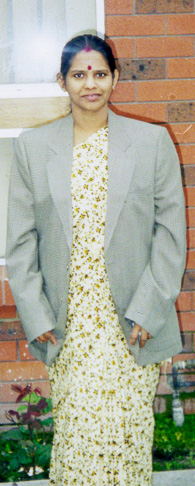 My Loving Parents
My mother is everything to us.She even sacrificed her legal profession to look after us.Very nice,caring,commited and always thinking about us, she is the greatest mother! We owe everything we achieved to our mother.I really love her.
My brother,Jeyan (jey) is the real strength to me. He is a Final year Software Engineering student at RMIT university,Melbourne.He is very much attached to the family. Very responsible, quiet,and intelligent,Jane is heading for big things. An ardent devotee of Sathya Sai Baba, he is an outspoken guy. Girls love to chat with him. keep it up my boy!.
My sister, Nive is a righteous girl with lots of affection towards her sister and brothers. Has a very cool and collected mind with lots of perseverance. A 1st year student of Monash university's BSc degree.
My youngest sister, Vetha is the darling of our family.This Intellectual, ever-helpful and charming little girl is very religious and well read. Now a full time year 12 and a part time melbourne university student, her interests outweighs the courses offered by any Uni(!!).

This my happy family.I am very lucky to be born as a brother to jane , nive and vetha. they all love me very much. Me too !.