[ CRICKET ]
[ LOVERS' CORNER ]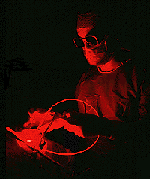 DOCTORS
How to test whether your doctor is competent- that is whether he is fully trained or a drop out from the university?

Here are some clues.....

If the doctor dosen't ask you to do either bloodtest,motion test, urine test scanning or ultrasound and say "Don't worry.everything will be allright"- He is duplicate.

If the doctor always follows the consultation times written on his name board,he is not original!

When the doctor coming out of the operation theatre patient's relatives ask him "how is the operation doctor?". If the doctor dosen't takeoff his eye glasses and say " I can say anything only after 24 hours"- He is not original!

After writing prescription saying "take these drugs for next 3 days.if u are not well even after 3 days come back. I will give another drug"-means he is original! because,duplicates don't know any other alternative drugs.
When the patient says 'severe headache doctor',if the doctor put his hand on forehead and checks like our mothers and grandmas do,then the doctor is not original.

Important Note: If u are the one who notices all these above mentioned,then it's pretty sure that u are also NOT an original patient!!.
[ CRICKET ]
[ LOVERS'CORNER]